Feb
13
2023
Beyond Erasure and Profiling: Cultivating Strong and Vibrant Arab American Communities in Chicagoland Legacies of Racism (IRRPP)
Legacies of Racism - Institute for Research on Race and Public Policy
February 13, 2023
6:00 PM - 8:00 PM
Location
Moraine Valley Community College: Business & Conference Center (M building), Moraine Room 2
Address
9000 College Pkwy, Palos Hills, IL 60465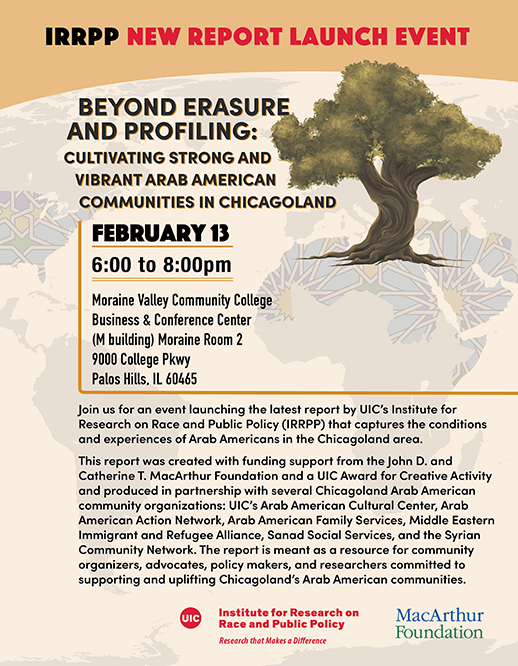 About the event: Join UIC's Institute for Research on Race and Public Policy and co-sponsor Moraine Valley Community College for an event launching the latest report by IRRPP that captures the conditions and experiences of Arab Americans in the Chicagoland area. The report uses demographic research, surveys, focus group data, as well as expert commentaries by organizers and academics to analyze how systemic inequities and anti-Arab/anti-Muslim racism affect the lives of Arab Americans in employment, education, health care, housing, and policing. The report engages with the diversity of experiences among Arab American communities and their common challenge in navigating being at once hypervisible as a result of commonplace stereotypes as well as invisible due to being classified as white by government agencies and due to the general lack of knowledge about Arab Americans in our society.
This report was created with funding support from the John D. and Catherine T. MacArthur Foundation and a UIC Award for Creative Activity and produced in partnership with several Chicagoland Arab American community organizations: UIC's Arab American Cultural Center, Arab American Action Network, Arab American Family Services, Middle Eastern Immigrant and Refugee Alliance, Sanad Social Services, and the Syrian Community Network. By mapping the challenges facing these communities and making proposals for change, the report will be used as a resource for advocates working to build strong and vibrant Arab American communities.
We will have copies of the report available for attendees. There will be refreshments at the event and there is parking at Moraine Valley Community College.
Registration is required. Please fill out the field at the original IRRPP event site here.
For access needs or questions, please email us at irrpp@uic.edu.
About the series: Events in the Legacies of Racism Series deepen our understanding of the challenges and possibilities of policy efforts to address longstanding racial inequality. Legacies of Racism events build on the themes from our State of Racial Justice in Chicago reports and explore the recent and historic origins of racial and ethnic inequities and ask questions about what it means to try to repair systematic harm done to people and communities.
Date updated
Jan 30, 2023