Master of City Design's Chicago Charrette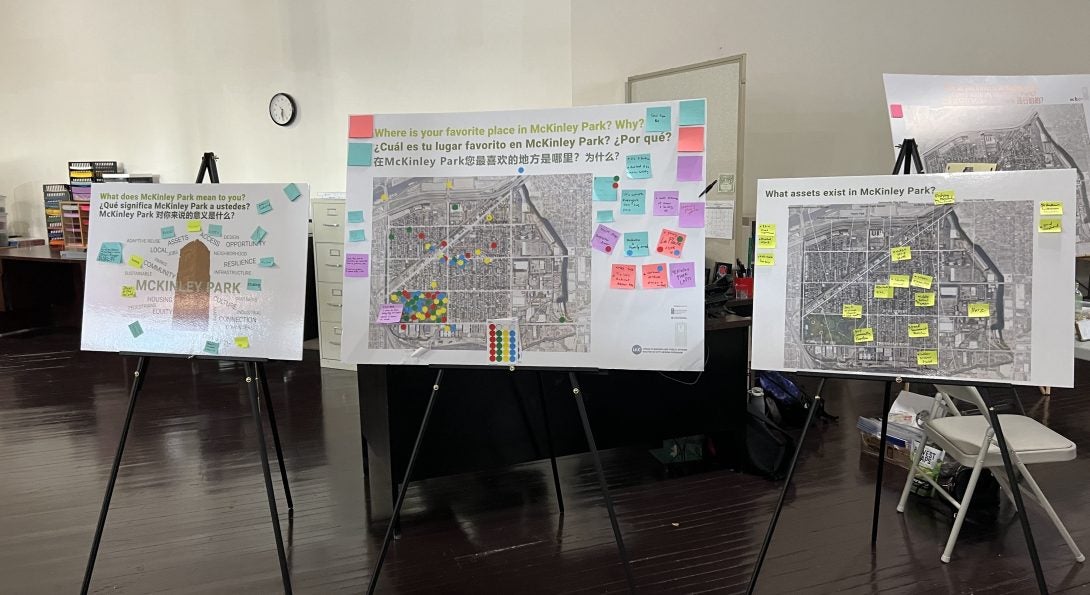 Behind the scenes of the summer 2022 community-led design process in McKinley Park
McKinley Park is a thriving working-class neighborhood on the city's southwest side. Having grown up in Evanston – a sister city that hugs Chicago's north side – I always associated McKinley Park with the orange line, large manufacturing, and, of course, the gorgeous namesake park. But my time as the Studio Manager for the CUPPA Master of City Design (MCD) Summer Studio in collaboration with IPCE and the McKinley Park Development Council (MPDC) brought a more conscious sense of reverence and awe for this incredible community.
The MCD Summer Studio aka 'Chicago Charrette' offers a hands-on field-based immersive environment for learning the craft of community engagement at the intermediate urban scale. Working with seasoned scholars, professional practitioners, engaged residents, and community organizers, students learn how to conceive purposeful participatory strategies inviting the engagement of diverse place-based communities for co-creating meaningful design solutions.
In addition to serving proudly as IPCE's Communications Research Assistant, having had Dr. April Jackson as my professor catalyzed this opportunity to lean in to my curiosities, strengths, and passions alike. As the Studio Manager I coordinated all of the inner workings of the project with guest lecturers, partners, and community members – perhaps a strange combination, but I love both spreadsheets and people, and I helped to keep our busy team organized, fed, and supported. Additionally, I was able to bring in my experience as a professional artist to build a documentary about the studio. I aimed to capture the spirit of the design process, focusing on stakeholders and the place-based considerations of our work. (Put in your headphones to watch our engagement process in English, Spanish, and Chinese!)
The Community Charrette was held on Thursday, June 2 at the Aquinas Literacy Center where Design Workshop, IPCE, and the studio members co-designed with McKinley Park stakeholders after a week of local pop-up engagement. The Final Presentation & Showcase was also held at the Aquinas Literacy Centeron Friday, June 10. It included a community presentation, public exhibition, plan document, the premiere of my process documentary, and live music by local guitarist Ivan Resendiz.
Since the conclusion of the summer studio, McKinley Park Development Council (MPDC) is moving forward with their community-led organizing and advocacy for ethical development. Their most recent community meeting on July 27 focused on the major developments in the neighborhood that the Charrette worked on, as well as the recently released Request for Proposals (RFP) for the easternmost building in the Central Manufacturing District, for which they had a representative from the City's Department of Planning and Development (DPD). You can read our process and proposals for these sites here, and follow along with MPDC's important work online at their website, Facebook, Twitter, and Instagram accounts. Stay tuned for more on our ongoing collaboration with the McKinley Park community!
"These are ideas that are coming from the neighborhood, not ideas that a developer is bringing into the neighborhood. We want it to be what people who live here actually want."
- Kate Eakin, McKinley Park Development Council
More about the project
Both co-instructors of this course, Drs. April Jackson and Sanjeev Vidyarthi, came to UIC after several years of robust globally-oriented professional design and planning experience convinced them that meaningful community collaboration is central to creating better places. They conceived of the Chicago Charrette as a community-immersive collaborative-planning studio that advances CUPPA's commitment to build purposeful partnerships in Chicago to enhance the public good.
McKinley Park Development Council (MPDC) was our main community stakeholder. They are a non-partisan group of concerned residents, teachers and business owners working to collectively foster economic, cultural and social development through the connection of residents, institutions and enterprises for the benefit of the McKinley Park neighborhood. MPDC served as a primary Steering Committee member for the recent Neighborhood Plan released in January 2021 in collaboration with Chicago Metropolitan Agency for Planning (CMAP). During this process, MPDC facilitated meaningful connections with a broad range of community stakeholders, assets, and local programming.
Design Workshop is an international design studio working across the fields of landscape architecture, urban design, planning, economics and engagement. In this process, they helped lead the formal Charrette process in McKinley Park and taught us how to design and implement purposeful community engagement strategies.
The entire course is generously supported by the UIC Institute for Policy and Civic Engagement (IPCE), which serves as a catalyst for learning and participatory action in discourse, research and educational programs.
Throughout the course, we are also welcoming a diverse range of accomplished practitioners, researchers, and scholars who offer practical tools and meaningful insights. So far, we have had the pleasure of hosting Paola Aguirre of Borderless Studio, Kimshasa Baldwin of Deture Culsign Architecture+Interiors, Dr. Joseph Hoereth of IPCE, Courtney Kashima of MUSE Community Design and Les Pollack of Camiros.
The Master of City Design (MCD) program meets demand from domestic and international students with bachelor degrees in architecture, landscape architecture, urban studies, urban planning and other design related disciplines. Anchored by UIC, there is truly no better city than Chicago anywhere for learning urban design. The MCD program teaches how to plan for designing great cities given all the complexity shaping our increasingly urbanized planet. All studios are co-taught by leading urban designers and professional practitioners in a purposeful manner. Students learn by diving deep down into Chicago's well-known neighborhoods, home to remarkably rich sub-cultures, as well as the famous downtown. As a bonus, living and studying in one of the world's greatest cities offers an unmatchable learning experience in itself.
Modified on August 23, 2022