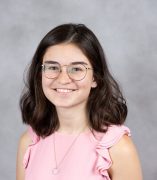 Karen Dávalos Romero
UPPF Graduate Assistant
Institute for Policy and Civic Engagement
Contact
Building & Room:
College of Urban Planning and Public Affairs
Email:
About
Karen joined IPCE in August 2019 as a graduate mentor for the institute's leadership development program, Urban Public Policy Fellowship (UPPF). As a mentor, she is responsible for checking in with fellows to ensure they stay on track and provide guidance from personal experiences.
Karen holds a B.S. in Biochemistry from UIC and is currently pursuing a M.S. in Forensic Science at UIC. She worked as a Tutor for Project: Vision, a non-profit organization which aims to provide youth with tools for educational, professional, interpersonal, and civic development. As a tutor, she assisted students in grades 6-12 with homework and provided additional enrichment activities to further their understanding.
In her free time Karen enjoys outdoor activities, such as hiking and kayaking.