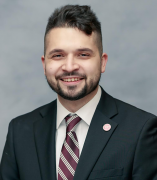 Enrique Guzman
UPPF Graduate Assistant
Institute for Policy and Civic Engagement
About
Enrique Guzman graduated from the University of Illinois at Chicago (UIC) in 2019 and earned his B.A degree with a double major in Applied Psychology and Criminal, Law, and Justice. As an undergraduate, he was heavily involved in various student organizations on campus, worked part-time as a recreational leader for the Chicago Park District, and interned as a counselor for Youth Guidance under the Becoming A Man (BAM) program at Carl Schurz High School.
He is currently pursuing a Master of Social Work (MSW) degree at the UIC Jane Addams College of Social Work program. As a graduate student, he will be specializing in School Social Work within the program, which prepares students with competencies for advanced practice in urban public-school settings. He will also be interning as a school-based counselor for Enlace Chicago, a non-profit organization that provides comprehensive mental health services for at-risk youth in Little Village. His goal is to continue mentoring and assisting at-risk youth within the urban population by becoming a full-time guidance counselor in a High School setting for Chicago Public Schools.
In his free time, Enrique enjoys watching anime (favorite one is Dragon Ball Z), playing sports (baseball, basketball, and football), working out at the gym, and playing video games on his Nintendo Switch.