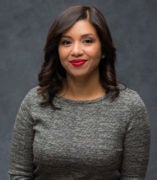 Catalina Nava-Esparza, MUPP
Program Manager
Institute for Policy and Civic Engagement
Contact
Building & Room:
College of Urban Planning and Public Affairs
Address:
412 S. Peoria Street, Suite 150
Office Phone Voice:
Email:
About
Catalina manages the institute's leadership development program, the Urban Public Policy Fellowship (UPPF) program. The UPPF program is a leadership development program designed to expose historically underrepresented minority undergraduate students at the University of Illinois at Chicago (UIC) to key public policy issues via mentorship, research, an internship experience, seminars and policy curriculum. UPPF Fellows have been placed at over 110 internship sites across the Chicagoland area.
She has nearly 9 years of leadership development and program management experience. Her educational background consists of a B.A. degree in Economics and a Masters of Urban Planning and Policy degree, both from UIC. Early childhood education, workforce development, women's rights and civic engagement are areas of interest to her.
Ms. Nava-Esparza is a member of a number of national and local organizations. She has served as an executive board member for the Young Professionals Advisory Council (YPAC) with Mujeres Latinas en Acción, sits on the Beautification Committee for the Village of Alsip, is an executive board member of the UIC Chancellor's Committee of the Status of Latinos (CCSL) and is the chair of the Latina Network subcommittee for CCSL. As the Latina Network chair, Catalina manages the Hilda Lopez-Arce Scholarship Award which is awarded yearly.
Some of Catalina's hobbies include cooking, running, traveling and camping with her husband and their two children. Contact Catalina for more information about the UPPF program or how to become an internship partner.