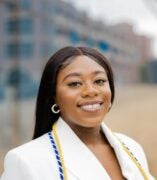 Lamonica Sykes
UPPF Graduate Mentor
Institute for Policy and Civic Engagement
About
LaMonica Sykes graduated from Indiana State University in May of 2022. She earned her Bachelor's of Social Work on a pre medicine track. Throughout her undergraduate experiences, she sought to emerge into opportunities to understand diversity, disproportion and ways to enhance access to  inclusive healthcare. Furthermore, LaMonica served as a peer educator and volunteer for the Indiana State Women's Resource Center. As the Vice President of Indiana State's Tobacco Free Blue organization, LaMonica assisted campus leaders with health promotions amongst Vigo County and the tobacco free campus initiative (established in 2020). She was also a Residential Life Social Justice Educator who encouraged students' practices of cultural competence, cultural humility, and allyship. In accordance with her Bachelor of Social Work program, LaMonica served as a case manager for assertive care treatment and student counseling services. At this time, she was able to further her aspirations of being an advocate within integrative health systems.
As LaMonica was driven to translate her field experiences into transformative initiatives, she is advancing with a Master's of Public Health at University of Illinois Chicago. She will be specializing in Health Policy and Administration.
LaMonica joined the IPCE team in August of 2022 as a Graduate Assistant. She enjoys cooking, running, and spending time with her loved ones.