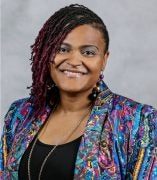 Simeko Washington
UPPF Graduate Assistant
Institute for Policy and Civic Engagement
About
Simeko has been involved with the University of Illinois at Chicago for over twenty years. From UIC, she holds a B.S. in Marketing and a Certificate in Entrepreneurial Studies from the College of Business Administration, a MUPP specializing in community development from the College of Urban Planning and Public Affairs, and served as the Assistant Director of TRIO Student Support Services for seven years before she enrolled full-time in a doctoral program in the UIC College of Education.
As a doctoral candidate and researcher focusing on Curriculum and Instruction, she has taught undergraduate research skills, co-lectured graduate level literacy courses, developed social science content for K-12 and higher education audiences, presented her work at various conferences, enhanced staff development, and provided insight as a data strategist for grades K-8. Her work focusses on collaborating with educational practitioners to design lessons and strategies to restore the power of hope and healing in social studies classrooms so students of color from urban areas can reimagine their futures as informed agents who collaborate to build community and transform their world.
Simeko joined the IPCE team in August of 2020 as a Graduate Assistant. She enjoys reading, listening to music, organizing, riding her bike, and spending time with family and close friends as a way of practicing mental wellness.