Feb
6
2023
Prototype Nation by Dr. Silvia Lindtner (Institute for the Humanities)
Digital Asia Speaking Series - UIC Institute for the Humanities
February 6, 2023
12:30 PM - 2:00 PM
Location
Behavioral Sciences Building
Address
1007 W Harrison Street, Suite 153 (Next to Au Bon Pain), Chicago, IL 60607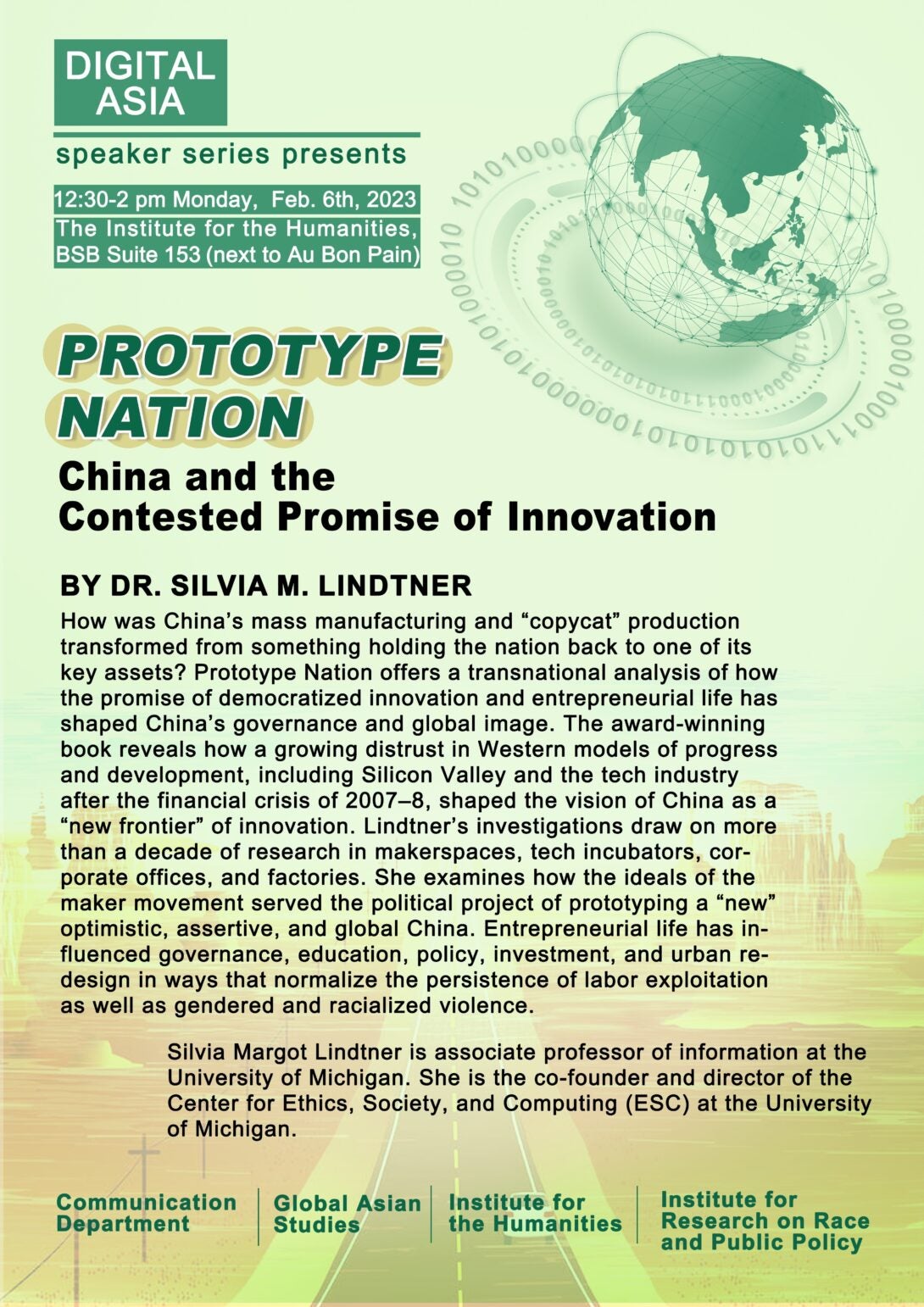 How was China's mass manufacturing and "copycat" production transformed from something holding the nation back to one of its key assets? Prototype Nation offers a transnational analysis of how the promise of democratized innovation and entrepreneurial life has shaped China's governance and global image. The award-winning book reveals how a growing distrust in Western models of progress and development, including Silicon Valley and the tech industry after the financial crisis of 2007–8, shaped the vision of China as a "new frontier" of innovation. Lindtner's investigations draw on more than a decade of research in makerspaces, tech incubators, corporate offices, and factories. She examines how the ideals of the maker movement served the political project of prototyping a "new" optimistic, assertive, and global China. Entrepreneurial life has influenced governance, education, policy, investment, and urban redesign in ways that normalize the persistence of labor exploitation as well as gendered and racialized violence.
The event is sponsored by the UIC Communications Department, Global Asian Studies, Institute for the Humanities, and Institute for Research on Race and Public Policy
Original posting here.
Contact
Institute for the Humanities
Date updated
Jan 30, 2023