Measuring Democracy: Exploring the Tools and Landscape of Civic Measurement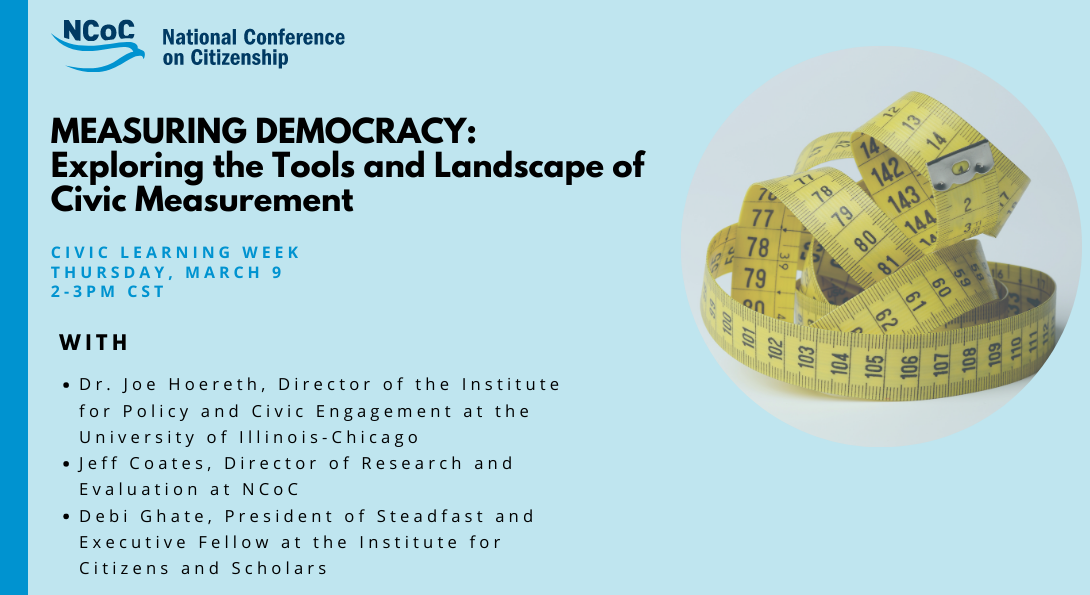 On March 16th, 2023, IPCE Director Joe Hoereth joined the Institute for Citizens and Scholars to talk about the Mapping Civic Measurement: How Are We Assessing Readiness and Opportunities? report - the product of a partnership with the Democracy Innovation project at NCoC. The report is a first-of-its kind civic measurement landscape review and analysis of existing literature, practices, and 200+ tools in use by the broader civic field.
The webinar was held during Civic Learning Week and explored the report, dove into its findings, and explored important tools like NCoC's Civic Health Index.
Speakers:
Dr. Joe Hoereth, Director of the Institute for Policy and Civic Engagement at the University of Illinois-Chicago
Jeff Coates, Director of Research and Evaluation at NCoC
Debi Ghate, President of Steadfast and Executive Fellow at the Institute for Citizens and Scholars
Below are the links to the resources discussed on the panel:
________________
About Democracy Innovation
Democracy Innovation is a project of the National Conference on Citizenship. At NCoC, we work to understand, test, and disseminate innovations that can make democracy more participatory, equitable, and productive. With new and long-time partners, we are exploring ways to scale, sustain, and measure democracy. Our first major initiative in democracy innovation, the "Measuring, Growing, Embedding Civility project, will help communities sustain democracy through better engagement practices, measure the progress of these efforts through a Civility Index, and scale the emerging tools, practices, and lessons through a national network of local leaders.
About the National Conference on Citizenship
The National Conference on Citizenship (NCoC) is dedicated to strengthening civic life in America. We pursue our mission through a nationwide network of partners involved in a cutting-edge civic health initiative, our cross-sector conferences and engagement with a broad spectrum of individuals and organizations interested in utilizing civic engagement principles and practices to enhance their work. Connecting people for the purpose of strengthening civic life is our goal. At the core of our joint efforts is the belief that every person has the ability to help their community and country thrive. Learn more at ncoc.org.
About the Institute for Citizens & Scholars
The Institute for Citizens & Scholars (citizensandscholars.org) cultivates talent, ideas, and networks that develop effective, lifelong citizens. Throughout our 75-year history, we've played a significant role in shaping educational talent in the K–12 and higher education spaces. Now, with an expanded mission, Citizens & Scholars unites the left, right, and center to develop breakthrough solutions that create stronger citizens in our country. We bring these solutions to life by forming strategic partnerships with an intentionally diverse group of young people, scholars and education leaders, and civic and business leaders—including the 27,000 world-leading Fellows in our network. Together, we're on a mission to ensure that Americans everywhere are well-informed, productively engaged for the common good, and hopeful about democracy.
Modified on March 20, 2023