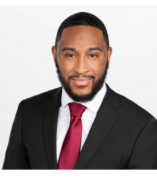 Marcus Daniels
UPPF Graduate Mentor
Contact
Building & Room:
College of Urban Planning and Public Affairs, Suite 615
Address:
412 S. Peoria Street
Email:
About
Marcus Daniels graduated from DePaul University in 2022 with a B.A. in Political Science and a minor in Urban Geography and Planning. Marcus is currently enrolled in a joint degree program, pursuing a Master's degree in Urban Planning and Policy and a Master's degree in Public Health. Additionally, Marcus serves as a board member in UIC's Society for Black Urban Planners, where he and the organization participate in community development events such as teaching high schoolers on Chicago's South and West sides. Marcus aspires to earn his Ph.D. in Public Policy to continue his passion for educating the youth and to work with legislators to construct and develop policies of equity to create and sustain an environment where all persons have the ability and access to an adequate life.
Marcus was born in Washington, D.C., and attended High school in southern Maryland. His mother is a D.C. native, and his father is from France, which led to him spending his childhood frequenting between the nation's capital and France, where he learned to speak French fluently. After graduating from High School, he enlisted in the Navy, where he served 7 years and 7 months. While in the Navy, he was stationed in Japan, Guam, and San Diego. Marcus' interest includes serving historically marginalized communities through community development activities and reading the biographies of activists and philosophers such as Marcus Aurelius, Sojourner Truth, Muhammad Ali, Angela Davis, Malcolm X, MLK, and Barack Obama.