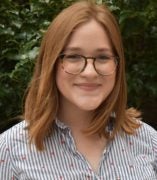 Maggie Eickhoff
Visiting Research Associate
Institute for Policy and Civic Engagement
Contact
Building & Room:
College of Urban Planning and Public Affairs, Room 631
Address:
412 S. Peoria St.
Office Phone:
Email:
About
Maggie graduated from Indiana University in 2018 with a B.A. in International Studies and a certificate in Political and Civic Engagement. Throughout her time at Indiana, she focused her energy on researching issues of international justice, working to increase student electoral engagement though advocating for a centrally-located polling place, and helping convene a yearly Issue Forum using the National Issues Forums method and guides.
She joined the IPCE team in September of 2018 after moving from Indiana to Chicago. When she's not in the office, she enjoys reading and writing short fiction and performing improv comedy.