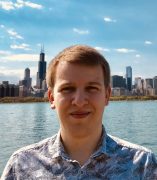 Bartlomiej Krolikowski
Graduate Accounting Assistant
Institute for Policy and Civic Engagement
Contact
Building & Room:
College of Urban Planning and Public Affairs, Room 634
Office Phone:
Email:
About
Bart joined the IPCE team in January 2019 as a Graduate Accounting Assistant. He previously worked in the Dean's Office at College of Urban Planning and Public Affairs as an Undergraduate Accounting Assistant, where he was responsible for processing various reimbursements, payments to vendors, reconciling of monthly expense reports and different roles at multiple levels of the expenditure cycle.
Bart graduated from the University of Illinois at Chicago in 2018 with a B.S. in Accounting. He started the Master of Science in Accounting degree in January 2019 and is expecting to finish by the end of the year. He is also preparing for Certified Public Accountant (CPA) examination. In his free time, he enjoys hiking, traveling, and reading fiction.