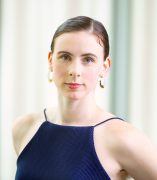 Jenna Pollack
Graduate Research Assistant
Digital Media and Communications
Pronouns: she/her/hers
About
Jenna Pollack is a collaborative dance professional, cultural organizer, and arts worker. She is a Masters candidate in Urban Planning and Policy at UIC specializing in community economic development, and is also a researcher with Arts Alliance Illinois and for Dr. Stacey Sutton. She joined the IPCE team in January 2022.
Most recently Jenna was a Community Researcher at Borderless Workshop, an Arts Envoy to the U.S. Embassy in Colombia in collaboration with the University of Caldas, and was an Assistant Professor of Dance at the Boston Conservatory at Berklee and Salem State University. Additionally, she has worked on the staff and U.S. Board of Directors for Springboard Danse Montréal since 2013.
Jenna holds an executive certificate from University of Pennsylvania's School of Social Policy and Practice in Social Impact Strategy, an M.A. with Distinction in Choreography from the Institute of the Arts Barcelona/Liverpool John Moores University, a Certificate with Honors from Harvard Business School Online's CORe program, and a B.F.A. in Dance Performance from The Juilliard School. She was previously a dance educator for Lincoln Center Education, The New York City Department of Education, Together in Dance, Children's Musical Theater Camp in Shenzhen, China, and Co-Directed The Arusha Arts Initiative in East Africa.