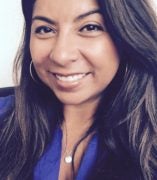 Norma E. Ramos, MSM
Director of Engagement and Partnerships; Adjunct Faculty Instructor
Institute for Policy and Civic Engagement
Contact
Building & Room:
College of Urban Planning and Public Affairs
Address:
412 S. Peoria Street, Suite 150
Office Phone Voice:
Email:
About
Norma Ramos was hired as Associate Director of Communications for the Institute for Policy and Civic Engagement (IPCE) when it was founded in the fall of 2008, and appointed as Director of Marketing and Communications in September 2010 and is currently the Director of Engagement and Partnerships. She is responsible for high-level project management and special project support, in addition to leading and contributing to projects and initiatives which strengthen the Institute's connection in the areas of research, education and public discourse. She also provides leadership, strategic direction, and management support for the Institute's research projects, educational and leadership programs and public discourse and dialogue initiatives.
She is also responsible for building and maintaining civic, community and educational partnerships, media partners, and local and state government relations related to the program development and administration functions of the Institute. She manages programming for the Institute that includes educational programs related to enhancing civic engagement and/or on the importance of public policy issues for various audiences including youth, campus faculty, students, staff, and community partners and residents.
She is also a trained facilitator and provides support and manages training programs and opportunities utilizing various dialogue methods to enhance deliberative democracy and civic and public engagement. And additionally, is responsible for leading and managing all aspects of the Institute's communications strategy and digital platforms.
Ms. Ramos is also an Adjunct Faculty member on campus. She is an Instructor for the Dialogue 120 Seminar, a course for UIC first-year students, designed to familiarize students with introductory topics in diversity, dialogic communication, and social justice and an On-line Instructor for the School of Continuing Studies for the Certificate Nonprofit Management Program.
She has more than 10 years of marketing, media, and communications experience working in the education units at USA TODAY, Chicago Sun-Times, and the Milwaukee Journal Sentinel and 10 years working in civic engagement, public policy and higher education.
Norma Ramos graduated from the University of Wisconsin-Whitewater with a BA in Journalism and a MS in Business Management from Cardinal Stritch University. Norma enjoys spending her free time with her family in Wisconsin, being outdoors, reading, and working as a youth mentor.